Shimla Travel Guide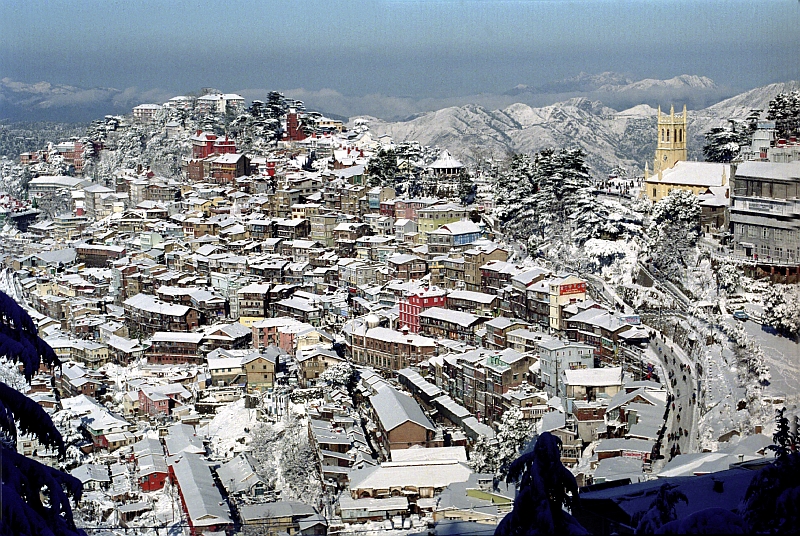 Height: Most of the town lies between 2,100 m and 2,300 m
Languages spoken: Hindi. Also English, Punjabi and Pahari.
Religion: Mostly Hindu. Also Sikh, Muslim and Christian
Medical Facilities: Good
Telecommunications: Worldwide links by the net, telephone and fax, code: 0177
With all its intricacies, history seems to have been the mortar for every brick and stone that has built Shimla. As the summer capital of British India for well over a century it was the seat of one of the most powerful governments in the world. From its cedar-shaded heights, one fifth of the human race was ruled and the decisions made those decades ago affect our lives to the present day.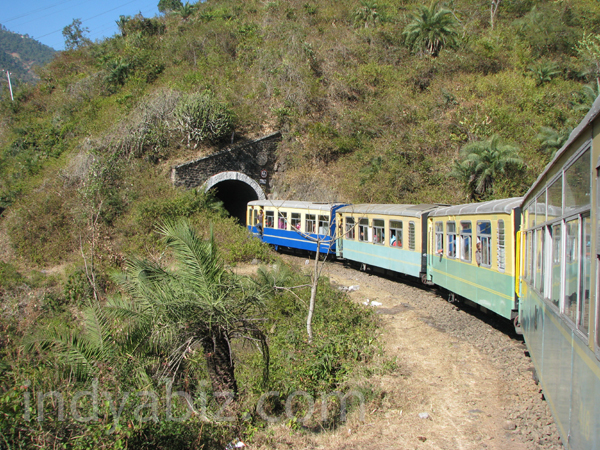 The town of Shimla rose in the nineteenth century when the Gurkha Wars came to an end in 1815-16 and the victorious British decided to retain certain pockets as military outposts and sanitaria. In 1822 the most rigorous of dandies and the greatest of sticklers for form Captain Charles Pratt Kennedy, Political Agent to the Hill States directed that a house be built for him at the village whose name is variously reported as Sheyamalaya Shumlah, Shimlu and Shemlah. Kennedy House led the vanguard of the hundred-odd houses that were to scatter themselves by 1841 over every level or gently inclining space. Lured by the climate and terrain scores of European invalids began moving to the station and the only stipulation of the local chief who owned the land was that no tree be cut or cattle slaughtered.

In 1864 the Viceroy, John Lawrence anointed Shimla – then spelt Simla, as the summer capital of British India. With Lawrence came the Viceroy Council, the Imperial Secretariat, representatives of the Indian princes and foreign envoys. As the town grew to become the workshop of the Empire, an awed visitor observed, every pigeonhole cradled an embryo of a war or death. Despite the fact that up to the time of Indian independence in 1947, Shimla officially remained only the summer capital, yet the Government spent more time in these hills than at the actual capital Calcutta and later New Delhi. As the bearer of the Viceregal sceptre this tiny pocket became the cynosure of British Empire. Imperial grandeur, and all the panoply and trappings of power came along for the ride. And there was a popular local saying that went, "You cannot sleep the nights in Simla for the sound of grinding axes". A social whirl of parties, gymkhanas, balls, fancy fairs and affaires du Coeur ensured that a heady mixture of scandal and intrigue constantly wafted through the town.

Quite inevitably the freedom movement had a close connection with Shimla. Ornithologist and former Civil Servant, Allan Octavian Hume created the Indian National Congress which spearheaded the struggle while living in the town. Stalwarts like Mahatma Gandhi, Pandit Nehru, C. Rajagopalachari, Pandit Madan Mohan Malviya and Maulana Azad regularly visited Shimla. Major events that took place in the town were the Simla Conference in 1942, the deliberations of the Cabinet on and finally the decision to partition India.

And while the British Empire may have ceased to exist, its echoes linger on in the architecture and ambience of this hill resort. The elements of nostalgia may be strong but Shimla also has a youthful vigour in its pace. Its easy accessibility and several other attractions have made it one of India's most popular hill resorts. There are many unforgettable walks, day-excursions by the dozen, a variety of convenient shopping and entertainment museums, and ice-skating in winter. Shimla is the base or the unwinding point for numerous exhilarating routes to the state interior.

Today the town is distinctive for its variety of architecture. It has one of the rare surviving urban forests, made all the more unique, for its species are temperate to alpine ones in what is otherwise a tropical zone. And then Shimla's famous Mall offers one of the longest stretches of pedestrian shopping in the world.

Within and around Shimla, the public and private sector offer an enormous range of accommodation that range from modern to heritage hotels. Like satellites placed around the centre, there are many resorts in Shimla's periphery that are full-fledged destinations in their own right. These are located at Mashobra, Naldehra, Kufri, Shilon Bagh and Chail. En route by road from Kalka there are Parwanoo, Dharampur and Kasauli.

Plan Your Sightseeing

If you are fond of walking, Shimla will unfold parts that remain hidden to vehicles. Combinations by car and then on foot are possible in several areas. It is suggested that you take a direction for the day and cover the places of interest.

The area around the Institute of Advanced Study has several walks. Combine these with visit to the State Museum and expand if you will towards Kamna Devi.

Tara Devi and Sankat Mochan can be linked with a short train ride to Tara Devi station. The Himalayan Queen that leaves Shimla at 10.15 am is recommended.

Jakhoo can be combined with a stroll and shopping on the Mall and in Lakkar Bazaar. The Lower Bazaar that runs parallel to the Mall at a lower level has the flavour of a typical Indian market place. Trinkets that can be purchased here include silver jewellery. You can also walk towards Chotta Shimla and Raj Bhavan the residence of the state Governor. The recently created rooms of Himachal Darshan offer a glimpse of the various district in the state. Jakhoo has several paths that criss-cross the hill a good walk is along the old Five Benches Road near the microwaves link tower. The Bharari spur also has many walks that can be done in a few hours or carried over the day

Special Interest

Nature

Some routes offer a greater variety of Shimla trees, shrubs, wildflowers and ferns. If you are lucky some bird species can also be sighted. Some suggested places are:

The Glen, and the narrow forest trail that runs above it and loops around Summer Hill. The Bharari spur. Towards the villages of Kamina and Pabo. Trek route down from Kamina to Tattapani.

Colonial Architecture

Most of Shimla has diverse colonial forms culled from all over Europe.

English Renaissance: With a castle-like appearance is the former Viceregal Lodge which is now the Indian Institute of Advanced Study. This is surrounded by assorted cottages.

English Home Counties Marketplace: The Mall

Neo-Gothic: Gorton Castle now the office of the Accountant General and formerly the Imperial Civil Secretariat; the Secretariat of the Himachal Government at Ellerslie; and the Gaiety Theatre on the Mall

Norman- Baronial: District Courts.

Swiss- Bavarian chalets: The Chalet Day School and Cedar Lodge (Punjab Government Rest House).

Tudor: The Library on the Ridge and Barnes Court

Churches: Christ Church, St. Andrew and the deconsecrated churches of St. Andrew's (now, the Evening College) All Saints Chapel 9nearthe gates of the Indian Institute of Advanced Study).

Cemeteries: Adjoining Oakover, the residence of the Chief Minister of Himachal has the oldest one. The largest 'old-one' is below St. Edward's school and is approached via the Potato Research Station. The one at Sanjauli also dates back to colonial times and is still in use.

Others: Yarrows, various schools and college and cottages all over town.

Shopping

Handicrafts. Shawls and tweeds. Fruit juice and jams. Honey. Quality woollens. Silver jewellery. Rare books and etchings. Contemporary pahari miniature paintings. Metalware. Rugs and carpets. Handmade footwear. Wooden items like walking sticks.

Planning a Week in the Shimla Sector

A week's time will give you a healthy sampler of Shimla. Dividing your time between the town and suburbs is suggested. You can also divide your stay between the town and the peripheral region. A good time to do the walks are the mornings. A visit to the Mall is the ideal plan for the evenings. When visiting the suburbs plan for most of the day. In season, an appropriate activity like activity – like ice-skating can be pursued. Let your hotel or an approved travel agent help you plan your itinerary – those few minutes will add a great deal to your stay.

Distances from Shimla

Chadwick Falls 7

Chindi 94

Craignano 18

Indian Institute

of Advanced

Study

4


See Also

Haripurdhar Travel guide, Kheerganga Trek, Trekking Near Kasol, Activitities to do near kasol, kasol travel, Theog Travel Guide, Kasol Travel Guide How to visit Kasol, mini israeil in india, gateway to heaven, Weekend Getaways to Visit near Delhi , Tawang Travel Guide, Reckong Peo travel guide Reckong Peo hotels, Off beat Places near Shimla, Tourists places near shimla, Kalpa Travel Guide, Keylong Travel Guide, Joginder Nagar, Hamirpur, ManiMahesh, Trout Fishing in Rohru, Khara Pathar - Pabbar Valley, Kollam, Fort Kochi, Munnar The Hill station of Kerela, Bharmaur - Land of legendary Gaddies, Chattradi, Historical fort of Kangra, Masroor Rock-cut Temple, Pragpur heritage village, village tourism in pragpur, Lansdowne A Weekend Retreat, Rewalsar, Sarahan, kasauli , Dagshai - one of the oldest cantonment towns of Himachal Pradesh, Kaza Travel Guide Places to visit in Kaza, Karsog Travel Guide, Jantar Mantar Travel Guide Jaipur, Pink City Jaipur, Bharatpur Rajasthan Travel Guide, Bundi Travel Guide, Bikaner Travel Guide, Ajmer Travel Guide, Alwar Travel Information, Kashmir The Paradise on Earth, PAHALGAM The Valley of Shepherds, Gulmarg Travel Guide, Sonamarg The Meadow of Gold, Hangrang Valley Travel Guide, Charang Ghati Travel Guide, Nako Lake Travel Guide, Bhangal, Mcleodganj Travel Guide, Gushaini Travel Guide, Dashir Lake, Bhrigu Lake, Narkanda A Tourist Destination Of The British Times, Kasauli Tourists Attraction, Barot Travel Guide, places to visit near mandi, how to visit barot, Shoghi Travel Guide, Salogra Trekking Ecstasy, Rohru Travel Guide, Fagu, Bhandal Valley, Saho Travel Guide, Sarol Picnic Spot Near Chamba, Salooni Chamba Travel Guide, Nahan Shivalik Hills Gems, Places to visit in Sirmour, Sirmour, Tourist Places near kinnaur, Kinnaur, Bharmaur Kugti Udaipur Manali trek, Maidi to Nadaun Trek, Hamirpur- Deotsidh- Sri Naina Devi Trek, Kinner Kailash Parikrama Trek , Manali Hamya Herbal Trek, Morchella Trek, Dharamsala Chhota Bhangal over sari Pass Kullu, Wild Trek Kullu Valley, Chander Trail kullu Valley, Malana History Trek Kullu Valley, Hamta Trek Kullu Valley, Trekking routes in Himachal, Trout Fishing in Himachal Pradesh, Paragliding in Bir Billing, Shimla Travel Guide, Deotsidh Temple Cave temple of Baba Balak nath, SujanPur Tihra Travel Guide, Kungri Gompa Travel Guide, Dhankar monastery, Kunzum Pass Travel Guide, Kaza Spiti Travel Guide, Kibber-Khyipur, Chander Taal Travel Guide, Spiti Valley Travel Guide, Baijnath ancient Shiv temple, Palampur City of Tea Gardens, Tourist Places in himachal pradesh, Places of tourists interest near dharamshala, Dharamshala Travel Guide, Mysterious Skeleton Lake of Roopkund, Thanedar Famous For Apple Gardens, Kufri Travel Guide, Ranikhet Tourism Ranikhet Travel Guide, Naldehra, Tattapani Travel Guide, Great Himalayan National Park, Chamba Beautifull Valley of Himachal, Renukaji, how to visit renuka lake, tour to renukaji, Chail Travel Guide, Khajjiar The mini Switzerland of India, Dalhousie hill station full of colonial charm, Rajgarh The Peach Valley, Adventure Sports in Manali, Manali Travel Guide, Jim Corbett National Park Tourism Guide, Champawat Rich in Heritage and culture, Bhowali one of the picturesque towns of Nainital, Barkot Travel Guide, Yamunotri Travel Guide, Tehri Garhwal Travel Guide, Sattal Travel Guide, Roopkund Travel Guide, Rajaji National Park Tourism and Travel Guide, PINDARI GLACIER TREKKING GUIDE, Naukuchiatal Lake Travel Guide, Nainital Tourism Nainital Travel Guide, MILAM GLACIER TRAVEL GUIDE, Khirsu, Joshimath Popular pilgrimage centre, Hemkund Sahib, Pangi Valley, Haldwani Gateway of Kumaon, Gopeshwar - Famous for Temples and Natural Beauty, Gangotri Travel Guide, Devprayag The last Prayag of Alaknanda, Abbott Mount picturesque and hidden destination, Fascinating place on the earth - Chamoli, Auli The popular skiing destination, Kausani The Switzerland of India ,