Skeleton Lake of Roopkund, India. The Surprise Is What Killed Them …
In 1942 a British forest guard in Roopkund, India, made an alarming discovery. More than three miles above sea level, he stumbled across a frozen lake surrounded by hundreds of human skeletons. That summer, the melting ice revealed even more remains, floating in the water and lying haphazardly around the lake's edges.
Since this was the height of World War II, there were fears that the skeletons might belong to Japanese soldiers who had died of exposure while sneaking through India. The British government, terrified of a Japanese land invasion, sent a team of investigators to determine whether this was true. Upon examination they realized these bones weren't Japanese soldiers at all, but of a much much older vintage. But what killed them? Many theories were put forth, including an epidemic, landslide, and ritual suicide. For six decades, no one was able to shed light on the mystery of "Skeleton Lake."
In 2004 a scientific expedition offered the first plausible explanation of the mysterious deaths. The answer was stranger than anyone had guessed.
All of the bodies were dated to about 850 AD. DNA evidence indicated that there were two distinct groups of people killed near the lake: one a family or tribe of closely related individuals, and a second, shorter group. Rings, spears, leather shoes, and bamboo staves were found, leading experts to believe that the group was comprised of pilgrims heading through the valley with the help of local porters.
Analysis of skulls showed that, no matter their stature or position, all of the people died in a similar way: from blows to the head. However, the short, deep cracks in the skulls appeared to be the result not of weapons but of something round. The bodies had wounds only on their heads and shoulders, indicating the blows came from directly above. The scientists reached an unexpected conclusion: The hundreds of travelers all died from a sudden and severe freak hailstorm.
Hail is rarely lethal. But trapped in a valley without shelter, the 9th-century travelers could not escape the sudden barrage of rock-hard, cricket-ball-size spheres of ice. Twelve hundred years after the storm, the green-tinged bones of the hail victims still ring the lake, preserved alongside their tattered shoes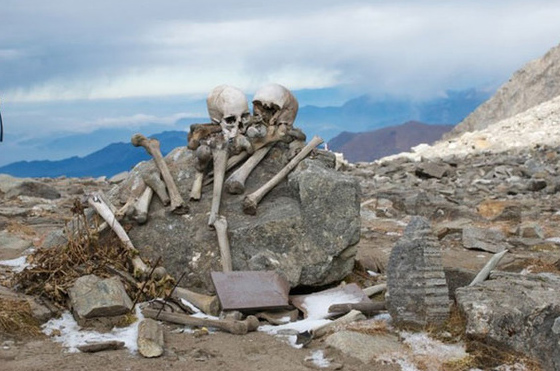 ---
How is the Roopkund trek going to be like ?

A high altitude himalayan trek like Roopkund is more than just a trip. It is an experience of a life time. You will be treated to some of the best views which very few people witness in their life times.

People get to witness nature in its various hues, which can humble any human being. For a lot of us, every himalayan trek teaches us a whole set of new things and is almost a life changing event every time.

Weather and trek timings:

On the Roopkund trail, we start at 7700 ft and climb to 15700 ft in four days. You are in a new landscape everyday. So does the weather condition.



At the lower camps, temperature at night can be in the range of 6-10 degrees at night. At the higher camps the temperature can go as low as -1 degrees outside the tent. Day temperatures are pleasant generally around 14-16 degrees.



Trekking day starts early and you will be out on the slopes by 7 am. On all days but the Roopkund day, the we reach the next camp by lunch time. Post noon, build up of local clouds often lead to rains. They usually last for a few minutes or about an hour or two. If you are lucky, you can get to witness hail too. These are not the monsoon rains and occur through the year.



We insist the early start for another reason. If you reach the next camp early, it helps people acclaimatize. The more time you spend at the next higher altitude the better it is for acclaimatization.



After a days trek is over, we gather in our tents and have fun playing games or singing or just joking around.



On the Roopkund day, we have an early start by 5 am. It is a long trekking day. As it is likely to be on snow, the going is easier when the snow is harder. Once the sun hits the slopes, you tend to sink in snow and walking takes more effort with constant slipping on snow.







Backpacks:

We believe that trekking is not just walking up a mountain. While we have porters and mules at Roopkund to carry supplies and equipment, we believe that trekkers must carry their personal belongings themselves to do justice to the true spirit of trekking. On our treks, trekkers are expected to carry their backpacks weighing not more than 7-8 kgs. If on any day a trekker finds it difficult to carry the backpack, we take it off him/her on that day.

Waste management and Toilets:

It is every trekkers responsibility to see that we leave the Roopkund trail as pristine as it was before we got there. We insist that no non biodegradable waste be thrown by either the trekkers. The waste has to be collected and handed over to the camp managers, who will see that it is got off the hills and disposed in the cities.



Biodegradable waste will be collected buried once the team is set to leave the campsite.

Toilet tents will be available wherever feasible. Your guides will tell you more about the water points at the camping sites.




How tough is the Roopkund trek:

Roopkund is a medium difficult trek. As it takes you to high altitudes where walking is very different from walking in our cities. You owe it to yourselves to be in good physical shape before embarking on this journey.


See Also

Haripurdhar Travel guide, Kheerganga Trek, Trekking Near Kasol, Activitities to do near kasol, kasol travel, Theog Travel Guide, Kasol Travel Guide How to visit Kasol, mini israeil in india, gateway to heaven, Weekend Getaways to Visit near Delhi , Tawang Travel Guide, Reckong Peo travel guide Reckong Peo hotels, Off beat Places near Shimla, Tourists places near shimla, Kalpa Travel Guide, Keylong Travel Guide, Joginder Nagar, Hamirpur, ManiMahesh, Trout Fishing in Rohru, Khara Pathar - Pabbar Valley, Kollam, Fort Kochi, Munnar The Hill station of Kerela, Bharmaur - Land of legendary Gaddies, Chattradi, Historical fort of Kangra, Masroor Rock-cut Temple, Pragpur heritage village, village tourism in pragpur, Lansdowne A Weekend Retreat, Rewalsar, Sarahan, kasauli , Dagshai - one of the oldest cantonment towns of Himachal Pradesh, Kaza Travel Guide Places to visit in Kaza, Karsog Travel Guide, Jantar Mantar Travel Guide Jaipur, Pink City Jaipur, Bharatpur Rajasthan Travel Guide, Bundi Travel Guide, Bikaner Travel Guide, Ajmer Travel Guide, Alwar Travel Information, Kashmir The Paradise on Earth, PAHALGAM The Valley of Shepherds, Gulmarg Travel Guide, Sonamarg The Meadow of Gold, Hangrang Valley Travel Guide, Charang Ghati Travel Guide, Nako Lake Travel Guide, Bhangal, Mcleodganj Travel Guide, Gushaini Travel Guide, Dashir Lake, Bhrigu Lake, Narkanda A Tourist Destination Of The British Times, Kasauli Tourists Attraction, Barot Travel Guide, places to visit near mandi, how to visit barot, Shoghi Travel Guide, Salogra Trekking Ecstasy, Rohru Travel Guide, Fagu, Bhandal Valley, Saho Travel Guide, Sarol Picnic Spot Near Chamba, Salooni Chamba Travel Guide, Nahan Shivalik Hills Gems, Places to visit in Sirmour, Sirmour, Tourist Places near kinnaur, Kinnaur, Bharmaur Kugti Udaipur Manali trek, Maidi to Nadaun Trek, Hamirpur- Deotsidh- Sri Naina Devi Trek, Kinner Kailash Parikrama Trek , Manali Hamya Herbal Trek, Morchella Trek, Dharamsala Chhota Bhangal over sari Pass Kullu, Wild Trek Kullu Valley, Chander Trail kullu Valley, Malana History Trek Kullu Valley, Hamta Trek Kullu Valley, Trekking routes in Himachal, Trout Fishing in Himachal Pradesh, Paragliding in Bir Billing, Shimla Travel Guide, Deotsidh Temple Cave temple of Baba Balak nath, SujanPur Tihra Travel Guide, Kungri Gompa Travel Guide, Dhankar monastery, Kunzum Pass Travel Guide, Kaza Spiti Travel Guide, Kibber-Khyipur, Chander Taal Travel Guide, Spiti Valley Travel Guide, Baijnath ancient Shiv temple, Palampur City of Tea Gardens, Tourist Places in himachal pradesh, Places of tourists interest near dharamshala, Dharamshala Travel Guide, Mysterious Skeleton Lake of Roopkund, Thanedar Famous For Apple Gardens, Kufri Travel Guide, Ranikhet Tourism Ranikhet Travel Guide, Naldehra, Tattapani Travel Guide, Great Himalayan National Park, Chamba Beautifull Valley of Himachal, Renukaji, how to visit renuka lake, tour to renukaji, Chail Travel Guide, Khajjiar The mini Switzerland of India, Dalhousie hill station full of colonial charm, Rajgarh The Peach Valley, Adventure Sports in Manali, Manali Travel Guide, Jim Corbett National Park Tourism Guide, Champawat Rich in Heritage and culture, Bhowali one of the picturesque towns of Nainital, Barkot Travel Guide, Yamunotri Travel Guide, Tehri Garhwal Travel Guide, Sattal Travel Guide, Roopkund Travel Guide, Rajaji National Park Tourism and Travel Guide, PINDARI GLACIER TREKKING GUIDE, Naukuchiatal Lake Travel Guide, Nainital Tourism Nainital Travel Guide, MILAM GLACIER TRAVEL GUIDE, Khirsu, Joshimath Popular pilgrimage centre, Hemkund Sahib, Pangi Valley, Haldwani Gateway of Kumaon, Gopeshwar - Famous for Temples and Natural Beauty, Gangotri Travel Guide, Devprayag The last Prayag of Alaknanda, Abbott Mount picturesque and hidden destination, Fascinating place on the earth - Chamoli, Auli The popular skiing destination, Kausani The Switzerland of India ,